Bjarke Ingels Group in Ecuador
bjarke ingels group (BIG) has revealed plans for a residential tower to be built in ecuador. the project, which is BIG's first in south america, is titled 'IQON' and is currently under construction in the city of quito. situated between the urban center and la carolina park, the concrete structure will climb to a total of 33-stories, offering sweeping views that take in the nearby volcanoes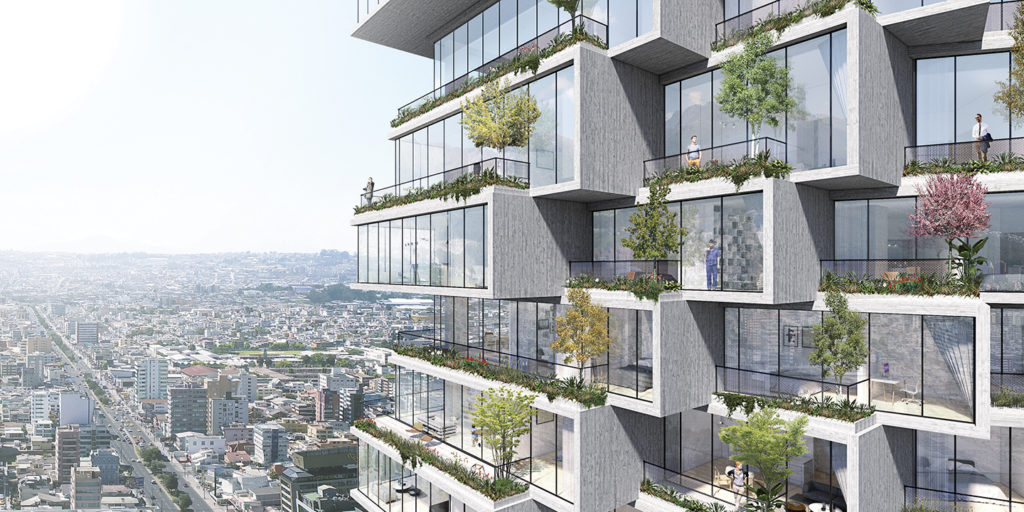 BIG's design for the tower, which will become the city's tallest building, comprises stacked concrete boxes. each of these modules has been rotated to provide views and space for outdoor terraces. each floor features apartments that have terraces on both the north and south façades, a gesture which not only allows for generous views, but also ensures cross ventilation and a general sense of openness.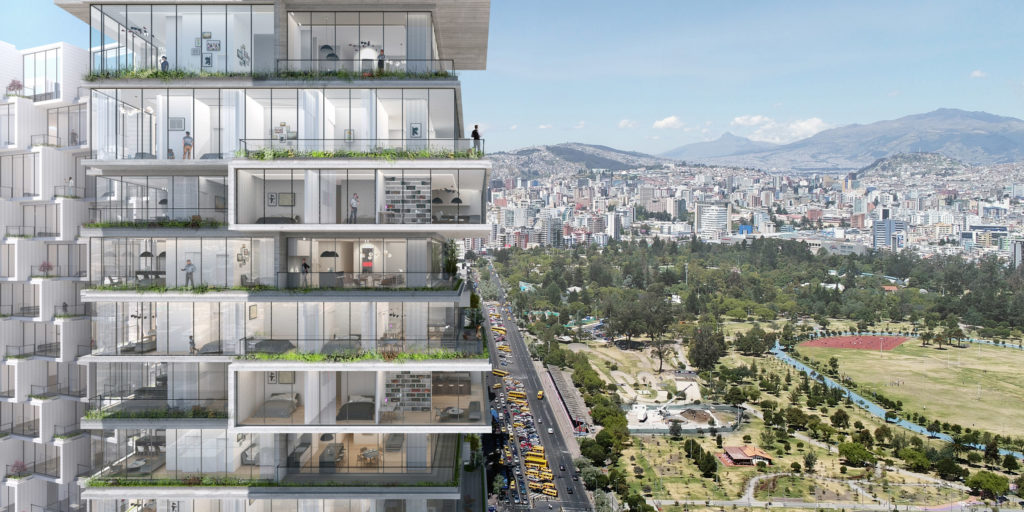 the building has been conceived as an 'urban tree farm', with each terrace featuring a different species. 'we are letting la carolina park climb up and into the building by planting native trees and plants on the terraces: the closer to the park, the taller the trees,' explains the design team. 'a hollow wall underneath each balcony has enough space to hold the roots of each tree. the planters become a concrete sculpture inside the apartments, which is the root zone of the tree for the apartment above.'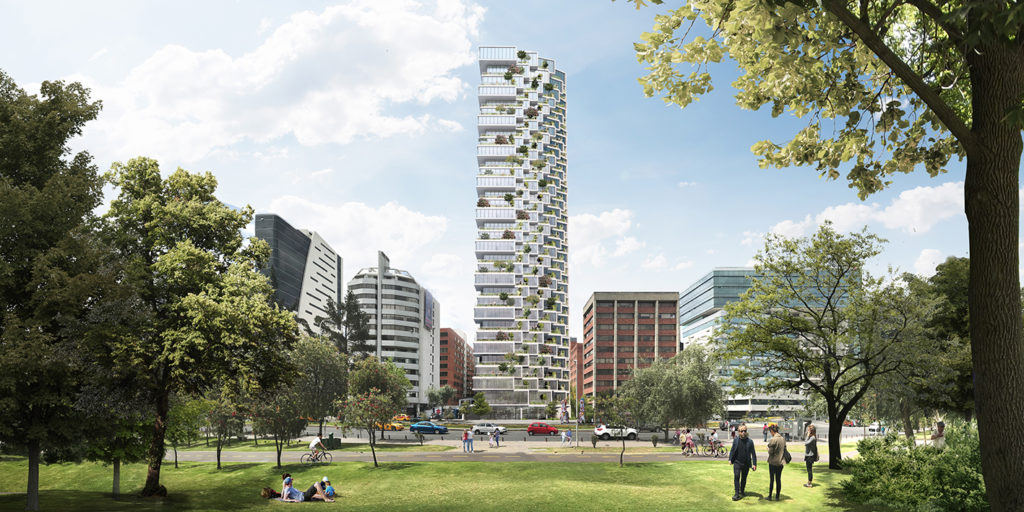 once the trees outgrow their planters (after about five years), they can be replanted in the city's parks. 'in this way the building becomes part of a green cycle — from park to building back to park,' BIG continues. 'the building aims compress the unique experience of quito into a single building to create a vertical community: la carolina park climbing all the way up to the penthouse.'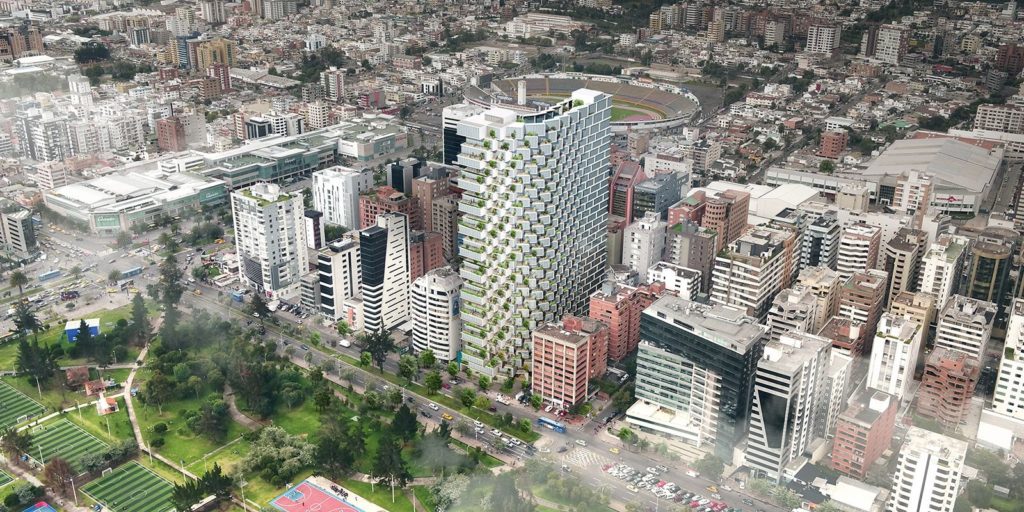 at roof level, terraces with an integrated lap pool offer residents another place to relax overlooking the city.meanwhile, at the base of the tower, a cascading series of stepping terraces creates an open public plaza activated by retail spaces that will allow people to rest in the shade or access the building lobbies.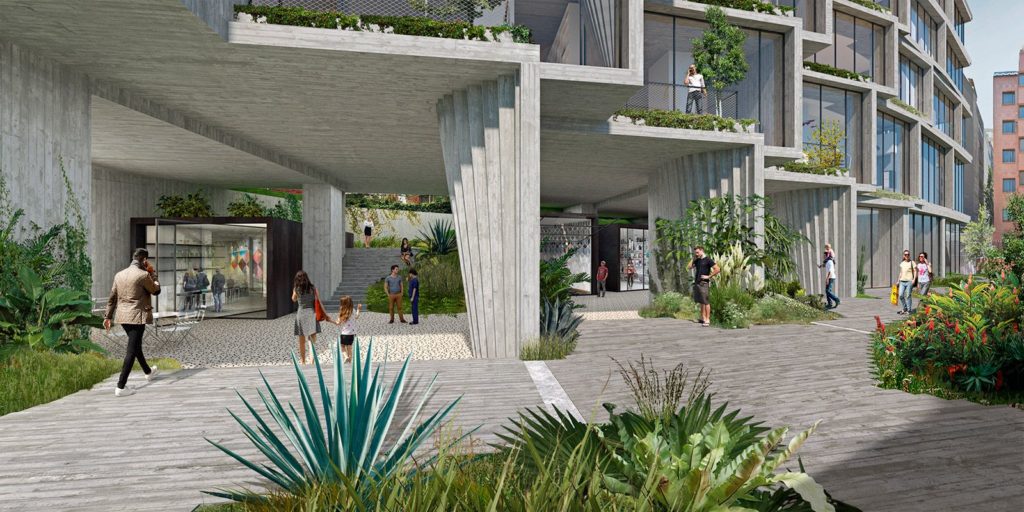 Source: https://www.designboom.com/architecture/bjarke-ingels-group-big-iqon-quito-tower-ecuador-10-11-2018/?utm_source=designboom+daily&utm_medium=email&utm_campaign=bjarke+ingels+group%27s