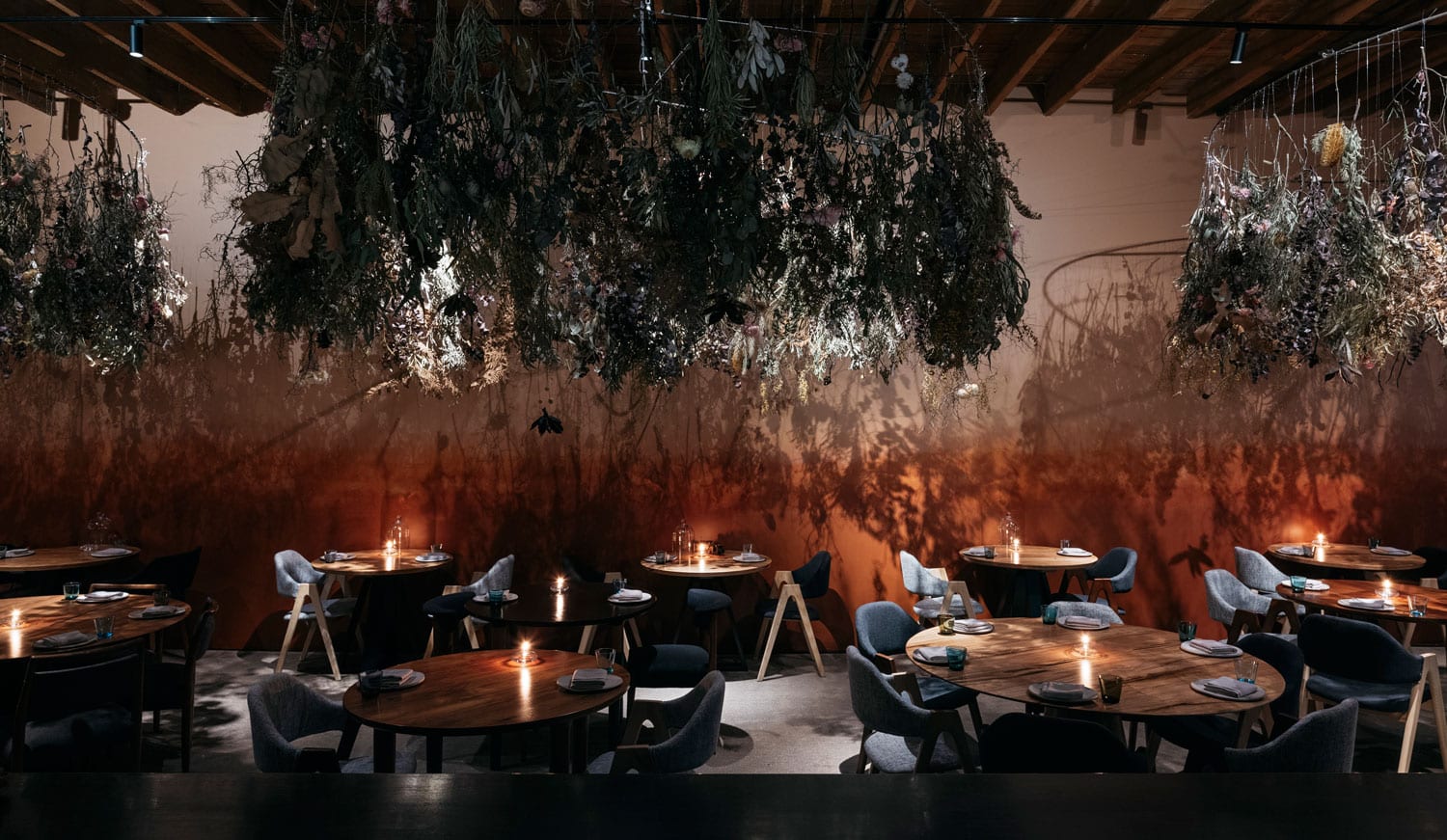 Interior Design Restaurant Surry Hills Sydney
Architecture
,
Art
,
Artist
,
Decor
,
Design
,
Designer
,
Furniture Design
,
Hospitality
,
Interior
,
interior design
,
Interior Design Cafe
,
Restaurant
Renowned Adelaide interior design restaurant Orana popped up in Sydney's Surry Hills with the month-long 'Orana in Residence'. Chef Jock Zonfrillo champions native and local ingredients, translating Indigenous gathering and cooking techniques into a fine-dining experience. With this in mind, SJB created a lush and sensory temporary fit-out that acknowledges its location and context, while interpreting the intimate nature of the Adelaide restaurant. Celebrating an approach to food that is unique and specific, the fit-out fosters a dining experience that is committed to engagement and locality. Rather than a predictable interpretation of Sydney as all sparkling harbourside, SJB interior design restaurant was inspired by the natural landscape that prefaced the now-contemporary, built-up landscape of Surry Hills.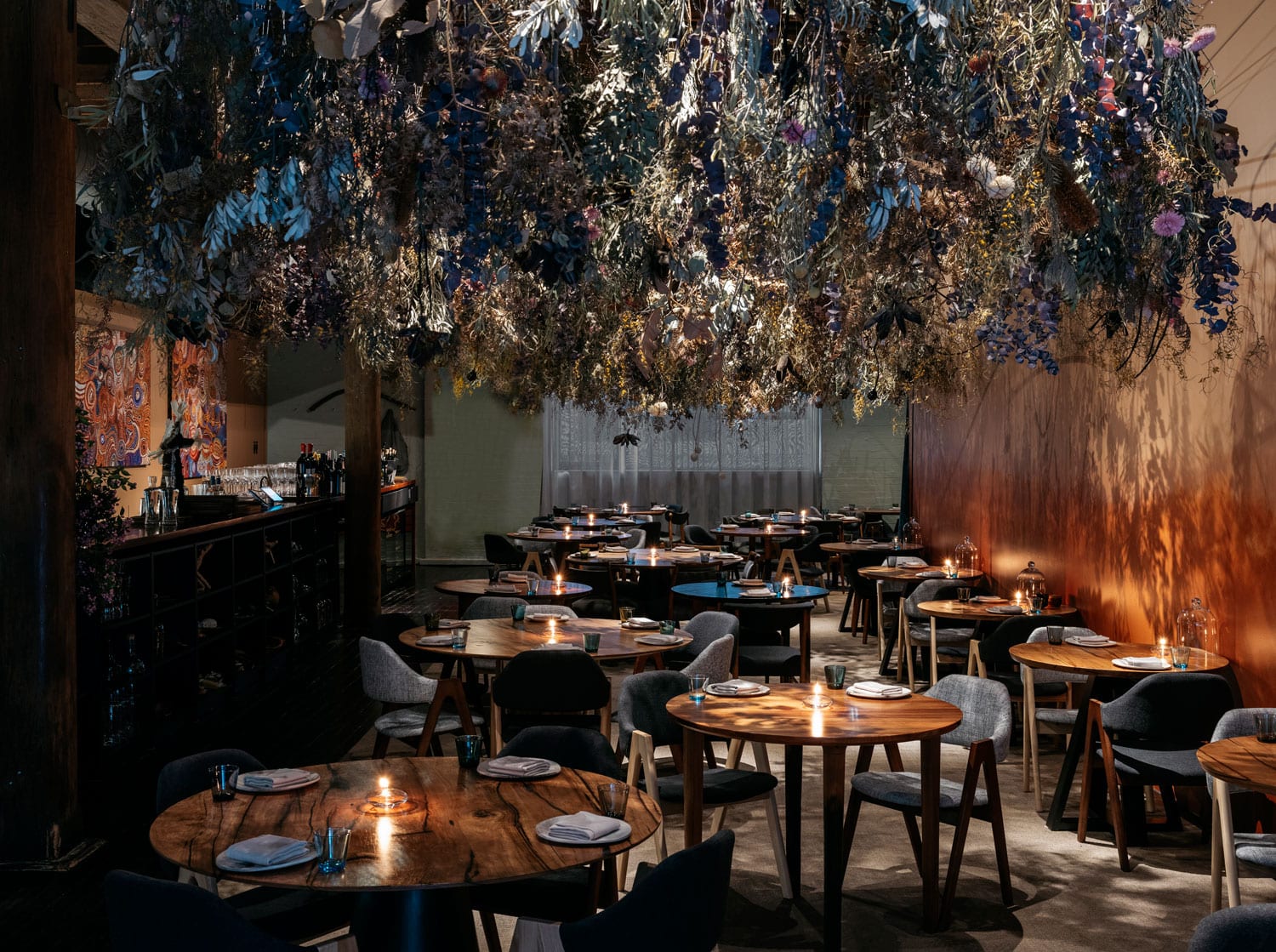 Honing in on the specificity of place enhances how a dining experience in Sydney is inherently and identifiably different to that of Adelaide. SJB's intent was that the ancient sand dunes, sandstone outcrops, banksia trees and wetland plantings that lie beneath Surry Hills made their way into the minds of Orana diners within the industrial, warehouse-style space.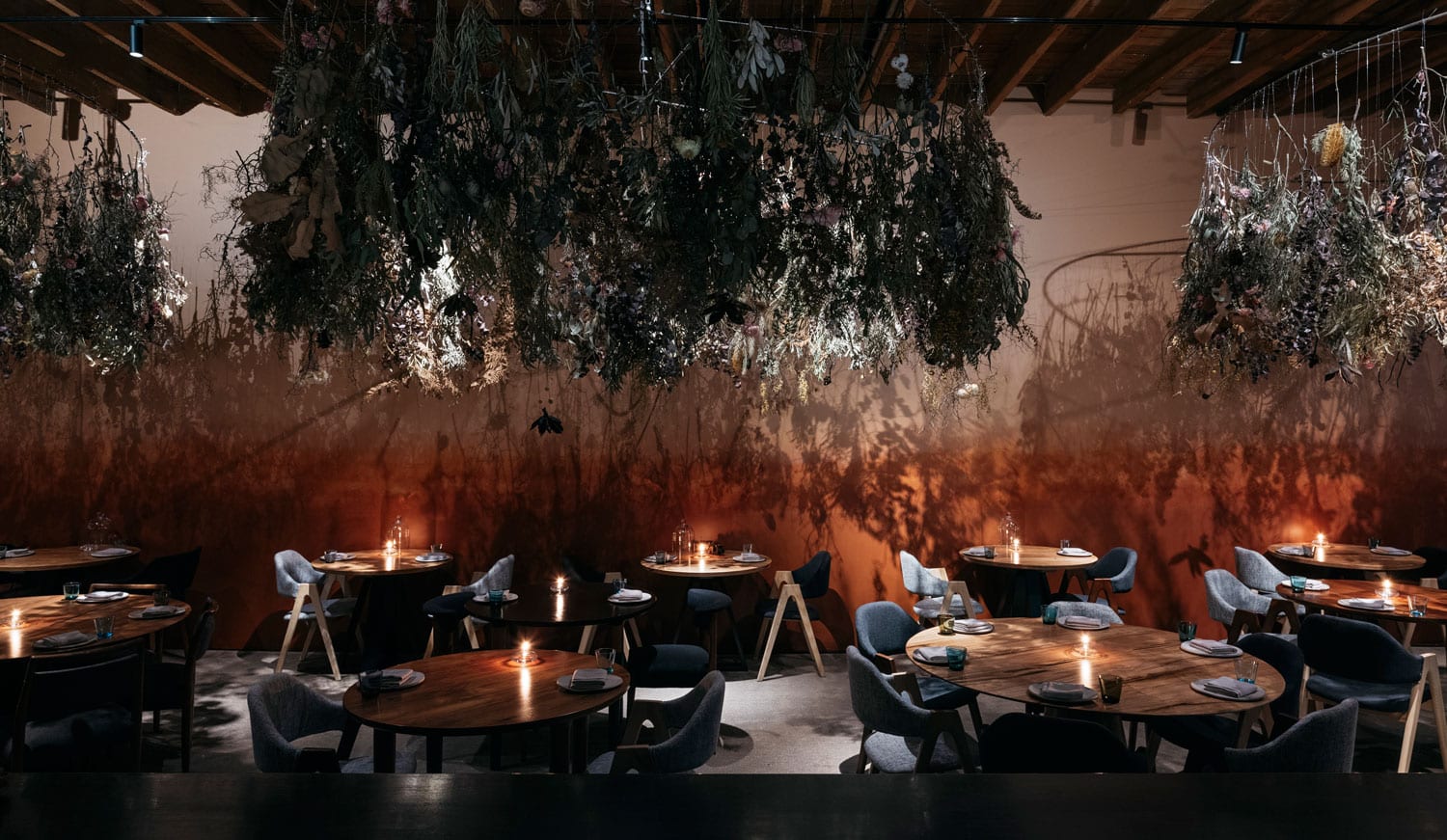 The fit-out of the restaurant's design is part of an ongoing partnership between SJB and Orana. It is supporting the native harvest business of the Nyul Nyul Community, on the Dampier Peninsula north of Broome. Working closely with Traditional Elders, SJB designed a fast assembly pre-fabricated sorting facility for the harvesting of superfoods such as the vitamin C rich Gubinge: an important form of sustainable business across Western Australia's Kimberley region.
The ceiling at 'Orana in Residence' is blanketed with hanging arrangements of dried native plants and flowers. These cast detailed shadows on the opposite wall, which fade upwards from deep terracotta to pale, muted orange, redolent of the colours of the Australian desert. Large, striking indigenous artworks drive home the premise of the interior design restaurant.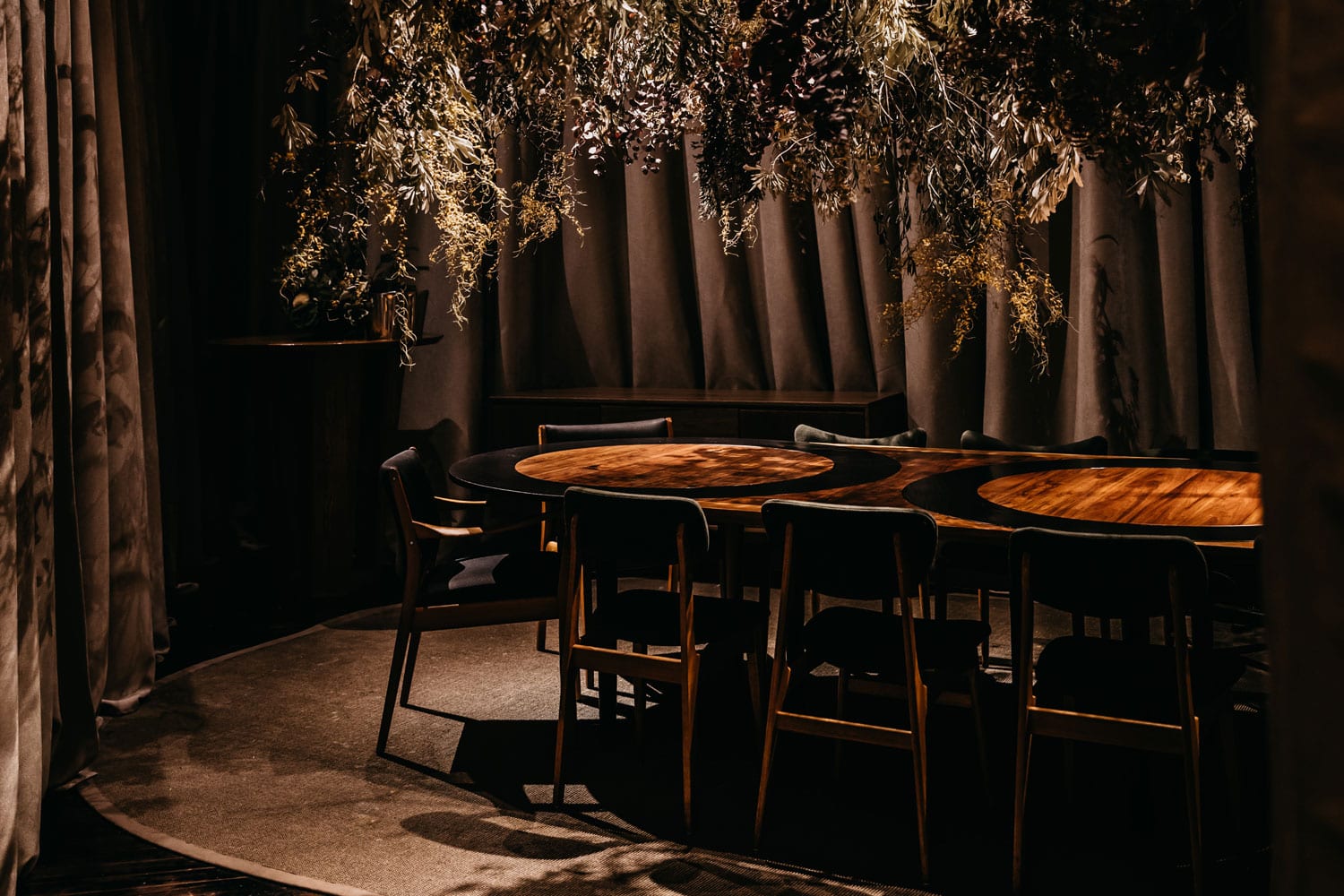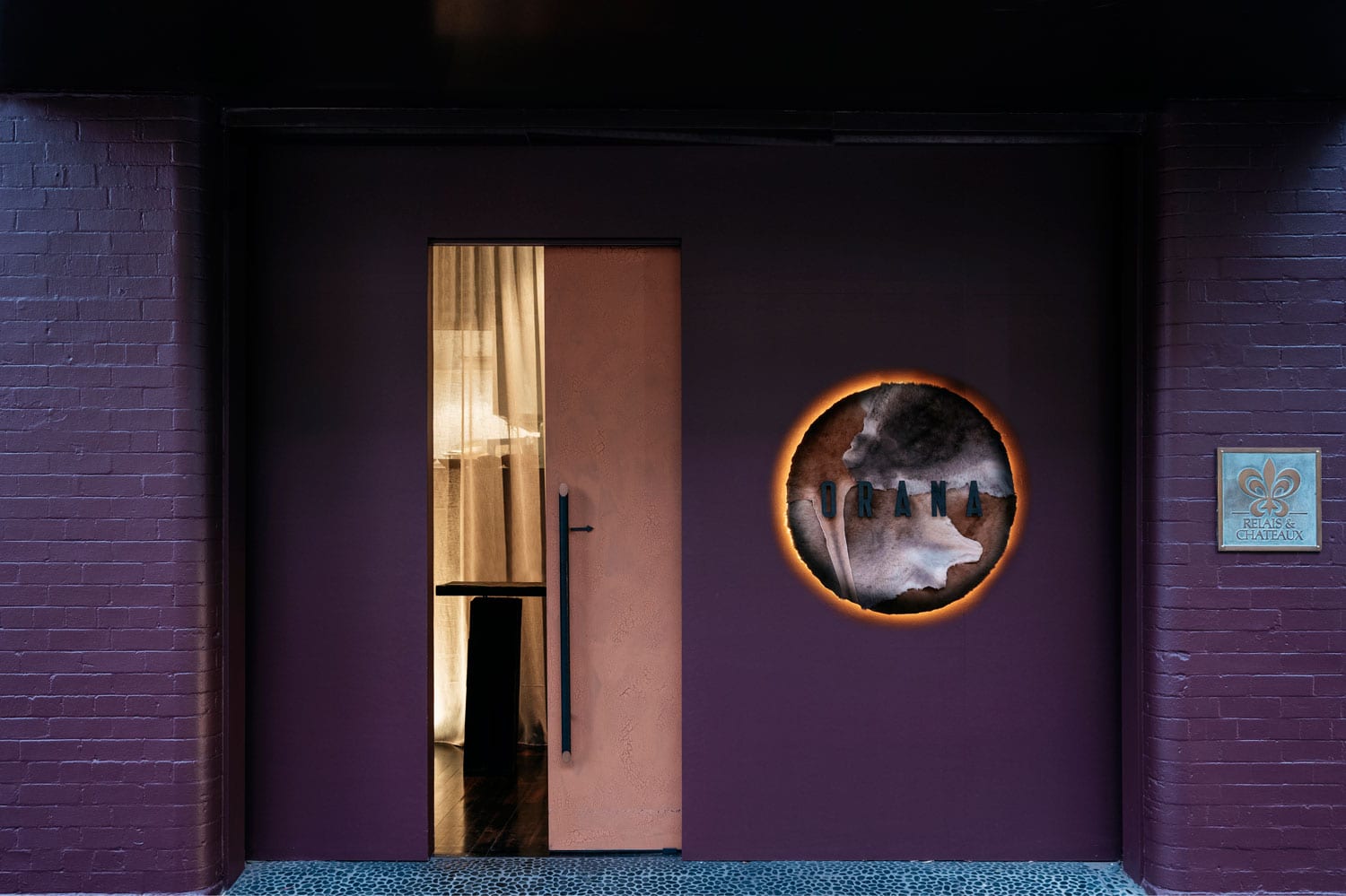 Source:https://www.yellowtrace.com.au/orana-in-residence-restaurant-pop-up-sydney-sjb/